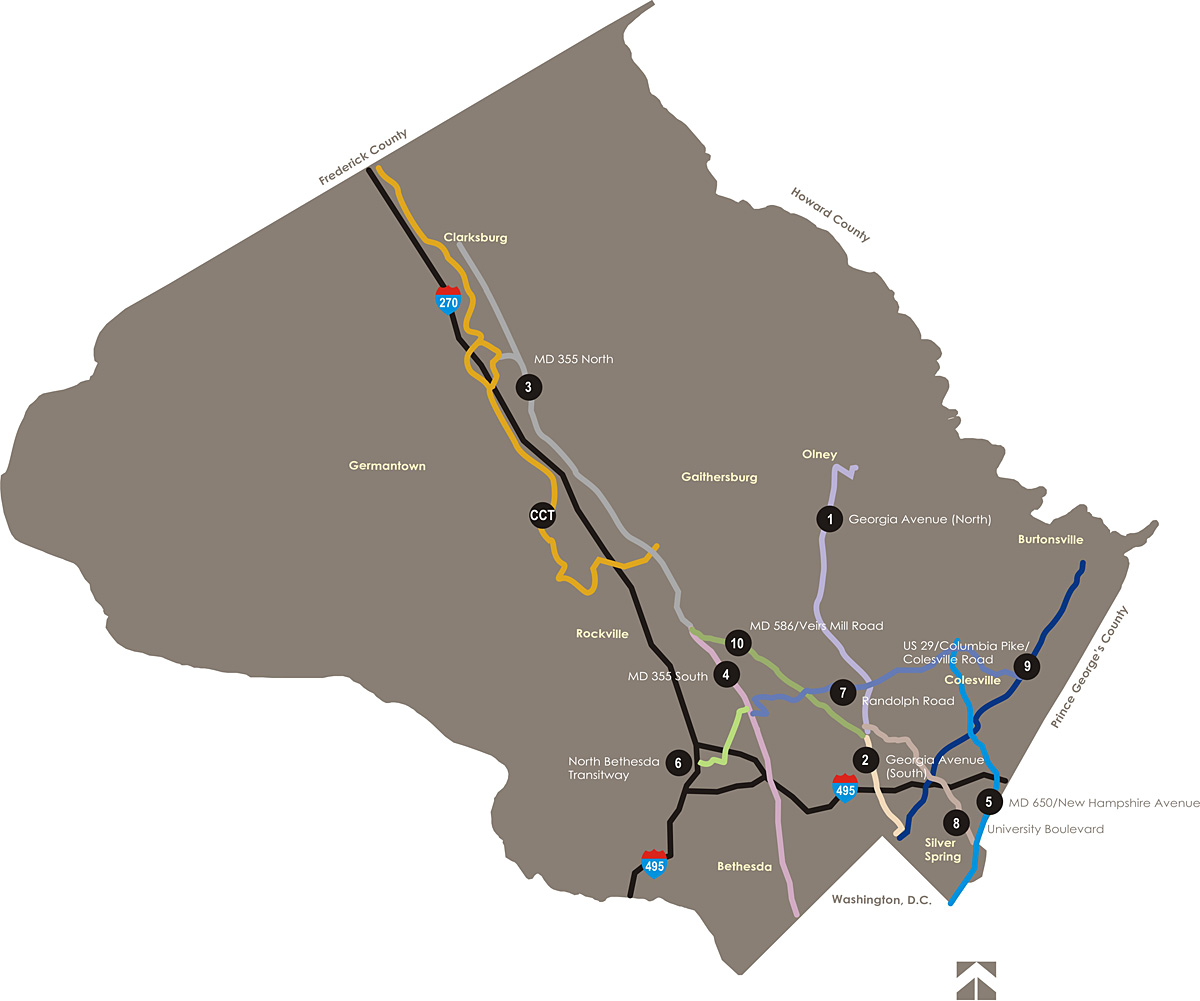 A map of the 11 proposed Bus Rapid Transit routes (click to expand)
Montgomery County is in the process of planning
a
bus rapid transit (BRT)
network to improve accessibility and mobility throughout Montgomery County. BRT is similar to light rail operations, but would run exclusively on modified county roads.
BRT combines the speed and efficient travel of light rail with the cost-effectiveness and flexibility of buses.
BRT can come in many different forms, and Montgomery County is planning on implementing different road designs for different corridors. Such designs include two-way medians, reversible medians, and dedicated curb lanes. Watch this
video
to learn more about the different BRT designs and what they look like.
Plans also call for
implementing fare-card and system integration with existing and planned transit modes like WMATA, MARC, RideOn, Metro Bus and the Purple Line.
All successful BRT systems share these characteristics in common:
Dedicated Transit Lanes
: Auto-free lanes running in center medians or along curbs to separate rapid transit vehicles from ordinary auto traffic.

Permanent, Modern Stations
: Convenient, clean stations offering off-board fare collection, real-time arrival information, and level boarding to reduce boarding times and keep passengers moving.

Signal Priority
: Priority for bus vehicles at intersections to avoid signal delay and commingling with auto traffic.

For more information check out this website and the accompanying video:
http://www.communitiesfortransit.org/what_is_rts
http://www.communitiesfortransit.org/what_rapid_transit_looks_like
Website for Montgomery County Planning:
http://montgomeryplanning.org/transportation/highways/brt.shtm
Common Features of BRT systems (Source: GAO)
Click to expand